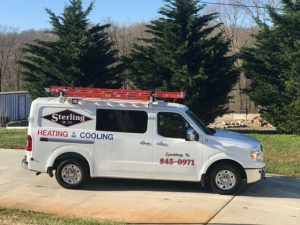 Spring may not fully have sprung yet, but before you know it the cool and mild temperatures of spring will have come and gone and we will be into the heat of summer. What better time to check your AC system to make sure it is fully functioning. If it is broken, we would be happy to fix it for you. Just contact us at 434-845-0971.
Here are some AC tips that you should consider before firing up that Air Conditioner this summer.
Check the ducts for damage. Take a look at your duct work. If there is damage to it, you could be losing valuable cold air and the price of your electric bill will increase for sure.
Check the vents. Make sure vents are clear of clutter. Make sure nothing is blocking them.
Look at your thermostat. Is it functioning properly? Is it very old? It may be time for a new thermostat.
Check the drain line. There is a drain line that drains condensation from the cooling coils (inside unit). If this drain is damaged or blocked, this can cause major problems down the road.
Change your air filter. Even if the filter isn't that dirty, if it has been sitting all winter, it could definitely stand to be changed. Get a new filter for as little as 5 bucks.
Check your circuits.  Make sure they are working and electricity it getting to the unit(s).
Clean the outdoor evaporator coil. This is a very important step. The metallic brushing around your fan can collect dirt over time. If they get clogged then your fan has to work harder to blow away heat from the evaporator coil. Not only that, your entire unit can malfunction because of an overheating outdoor unit. Make sure to take a garden hose and thoroughly spray the dirt from the external casing of the outdoor unit.
Visibly check the lines going into and out of the external unit. If you see corrosion or damage, the piece probably needs replacing.
These quick tips can help you run into major problems down the road when you really need that cold air to fight 90 degree heat. Think of this like a checklist that a pilot uses before he or she starts up their plane engine.