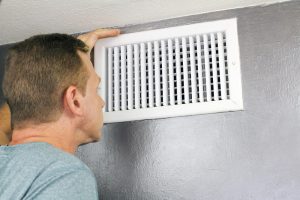 The air ducts in your home supply the treated air (heated or cooled) to the rooms throughout your house. They are insulated passageways that run in your attic and walls. Like anything else, these ducts have a shelf life.
A duct system that is over 15 years old can start to deteriorate and have inefficiencies. The two major problems you face with an old air duct system are:
leaks and holes – The air you are treating is escaping and causing your pump to work harder to reach a certain temperature. You are basically heating the space between your walls and attic and wasting money at the same time.
air impurities – The impurities cause by dirty and degraded duct systems are every bit as bad as you can imagine. Not only does your system get affected by dirty particles, but your own body (lungs) get affected.
Repair:
If your ducts are relatively new but you are having problems you may experience the following issues:
odd noises – This can be loose or dirty ducts. It is best to call a specialist to look at this.
damage – If your system is running all the time and you cannot figure out why there may be a damaged duct. If someone was doing work in the attic and accidentally knocked a hole in your duct-work you are losing money every single day. Get a repair person out there to look at it.
Whether you need an AC repair or replacement , Sterling Oil is here for you. If you are in the Lynchburg area or surrounding areas, we will come to you and fix your problem. HEATING & COOLING 434-845-0971