Wednesday 16 October, 2013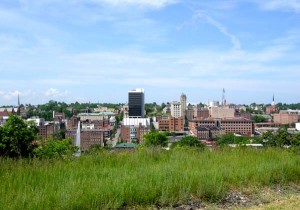 Started in 1983, family run Sterling Oil makes its home in Lynchburg , Virginia. We are proud to be serving the residents of one of the best cities in Virginia and oldest cities in the country. Here is a quick look back at Lynchburg's unassuming beginnings and how it grew to be a city with an exceptional educational and recreational culture. Located in the center of Virginia and nestled among the Blue Ridge Mountains and the James River, Lynchburg has played an important role in the history of not only our great state but our country.
Lynchburg was first settled in 1757 by John Lynch and was officially established by charter in 1786. Nicknamed the "City of Seven Hills" due to its geography, Lynchburg began to serve as a trading center during the 18th century due to its convenient location along the James River. This introduced the tobacco trade to the city which provided a major boost to the economy and soon became its primary source of income throughout the start of the 1800's.
Other major developments that aided the city's growth were the construction of the Salem Turnpike (now US 460) and the James River toll bridges which made travel in and out of the city much easier. In addition, prior to 1820, the residents of Lynchburg were plagued with a perpetual water shortage. The 1820's saw the creation of the city's water works system which provided a steady source of water from the river and led to the building of a reservoir.
The city continued to grow and welcome new technology when the Civil War began. Lynchburg served as a Confederate supply and medical post and was briefly named the capital of Virginia during the war. It managed to escape much of the destruction seen in other larger cities and towns and continued its growth when the war ended and throughout the rest of the century. War again hit the city in the early 20th century when World War I took its toll on the city as many of its young men left to serve their country and many of the city's industrial resources switched gears to aid the war effort. After weathering the Great Depression and World War II, Lynchburg continued its march to with manufacturing and development.
Today the city is known for its nuclear technology industry along with pharmaceuticals, insurance, and cellular communications to name just a few others. It is also home to six colleges and universities making it not only a great place to find employment but to provide our families with a sold education. We've said it once and we will say it again, we are proud to serve the great people and families of Lynchburg!
Posted by : Local
Written By: admin1