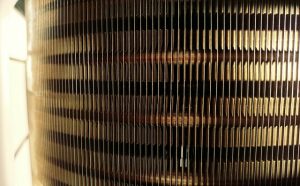 If your air conditioning system is getting older and you find yourself having to have it repaired every other year, it is probably a good idea to consider replacing it. Not only will you prevent being stuck with no AC in the middle of the summer, you will actually save money on your monthly energy bill. How much money can you save with a newer unit over an older one? $200 a year.
Newer AC units are more efficient when using energy. Also, when the AC technician is there, have him inspect your duct-work. Repairing or replacing worn or damaged duct-work can save you another $100 per year. Over time these saving actually help displace the cost of a new unit.
Sterling Oil is known for being a local supplier of heating systems and oil. But, we do AC as well. We are proud distributors of Nordyne, Armstrong Air, Burnham Products, Goodman, and Thermopride products. These are the best brands in the business. You can finance these services if you prefer to. You may be able to get your payments down to the amount that the new system saves you per year. It would almost pay for itself in some instances.
Leave it to the Professionals
When it comes to properly installing an AC system, a professional knows all of the factors to consider. Sometimes  a person may order a much larger AC than is actually needed and the AC cools quicker than it can dehumidify. This leaves the resident still being bothered by the humidity.  Having moist air and wetter surfaces is the perfect way to get mold in your house. So, the importance of having the right size AC for your home is more important than the layman can even imagine.
A professional takes your home size into account and orders the proper equipment. This can also save you money by not having a system that is overpowered and using a lot of electricity.
Sterling has been in the business of helping people find comfortable temperatures in their homes since 1983. Contact us today and schedule an appointment if you are thinking about having a new air conditioning unit put in.