Tuesday 03 December, 2013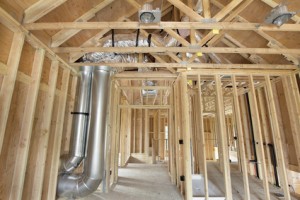 Today we are lucky enough to live in a world where we can control the temperatures in our homes with the click of a button or turn of a dial. I imagine most of us never stop to think of how people heated their homes even 100 years ago, it was certainly not that easy! With the cold weather letting us know it's here to stay with this recent January like cold spell, lets take a look back to the origins of home heating.
There is evidence of central heating systems used as early as 100AD by the Roman Empire. It was actually an ingenious set-up for its time, using hot air to create underfloor heating. Fueled by wood, the system was both expensive to maintain and labor-intensive to run therefore it was limited to mainly upper class households. Other forms of central heating systems that have been seen throughout the years following the Romans vary from wood-fired furnaces in Spain (early 1200's) to the Russian's hydrological systems (1700's) and finally the first steam-heating systems in England in the 1800's. These lead to the modern American systems, which began with wood based systems.
Wood was the main source of home heating and remained so until 1885 when coal overtook wood for the first time. At the turn of the 20th century low cost cast iron radiators and riveted-steel coal furnaces were common in many homes across the country. These were kept in basements and since electricity was not yet available, homes were heated by natural convection otherwise known as the tried and true, warm air rises mantra. This process was facilitated through ducts that provided the warm air access from the furnace to the rooms above. Things began to change in the mid-1930's with the forced air coal furnaces. Electricity had been incorporated into the design and electric fans were used to distribute the heated air.
It wasn't long after that gas and oil were adopted as primary fuel sources and soon made coal heating and the need to "stoke the fire" a thing of the past. Today American homes are still primarily heating their homes from these sources. About 60% of homes are currently using gas and 10% use oil. It will be interesting to see where the world of home heating leads in the years and centuries to come, no doubt they will become more efficient and increasingly environmentally friendly.