Wednesday 20 November, 2013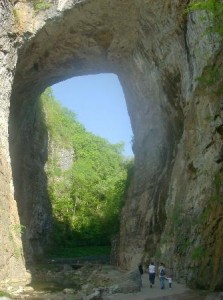 The most wonderful time of the year is upon us with the approach of Thanksgiving in less than ten days. While many decide to spend the holiday with family, you might be thinking about a change this year. If this sounds like you, let someone else take care of preparing the Thanksgiving feast and look no further than National Bridge.
Just under forty miles from Lynchburg, the Natural Bridge Thanksgiving Buffet will be hosted by the Natural Bridge Hotel on Thanksgiving Day. In addition to a delicious dinner to satisfy any holiday appetite with turkey, prime rib, and catfish to name a few entrees, there will also be live entertainment to enjoy while you eat. Prices are extremely reasonable with admission set at $28.95 for adults and $12.95 for children ages 5-10. Reservations are required and are already being taken so make sure to call or book online to confirm a seat.
The best part about spending Thanksgiving at Natural Bridge is not just the food but the beautiful setting. If you find you have eaten too much, which is a certainty on Thanksgiving, you can take a hike on the Natural Bridge & Cedar Creek Trail which will be open until dusk. What better day to explore the Monacan Indian Village and see the preparation of a traditional Harvest Feast that was common in the 18th century than on a day the nation spends giving thanks.
For those who are looking to stay in town to celebrate the holiday, start the morning off right by participating in the 25th Annual Turkey Trot in Downtown Lynchburg beginning at 8am for the Youth Mile and 9am for the 5k and Fun Walk. Registration is open now online until November 24th and starts at $25 for the 5k Fun Walk or Youth Mile if you pre-register (both are $30 on race day) and the 5k run is $30 for pre-registration ($35 on the day of the race). Last year's race saw over 2,000 participants with proceeds going to help children and families in need and this year's race promises to be even bigger with over 2,500 runners/walkers predicted to participate.
No matter what you decide to do for Thanksgiving this year, Virginia is always a special place to spend the holiday as it was host to the first official Thanksgiving in 1619. We at Sterling Oil hope you and family enjoy your turkey and all the fixings this year and Happy Thanksgiving to all our customers!
Posted by : Local
Written By: admin1