Wednesday 24 January, 2018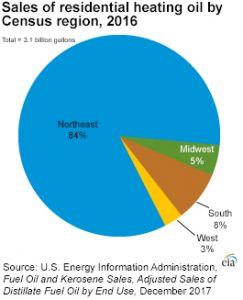 Heating oil is a type of oil that can be used to heat up the inside of a home. It does not matter the size of the home; the right size system can dispense heat throughout it. This is an efficient way for many home to obtain the heat that they need throughout the winter months.
Currently, around 6 million households throughout the United States choose and use heating oil for their heating needs. Some of these homes also heat their water with the same heating oil, though they do it in smaller amounts than what you would find with traditional water heaters.
Why Use Heating Oil?
Many households choose to use heating oil because it is much more efficient than the other types of heating that are out there. They provide a more efficient flow of hot air throughout the home, allowing it to be more comfortable overall. When you use this type of heating you also save more money on your energy bills due to the increase in efficiency.
Many choose heating oil because it is also environmentally friendly for households. This is a great thing when trying to reduce the amount of emissions go into the air from the systems that are used on a daily basis. A more efficient system that burns cleaner puts less emissions into the air. Heating oil is ideal for this.
It is more cost effective in the long run for families. The cost of heating oil is much lower than other types of heating methods out there. Due to this, you can save cash and still have a better feeling, more comfortable home because the system pumps out more hot air than others. This is also a reason why homeowners choose this heating type. Instead of constantly running to keep the home warm, heating oil efficiently fills the home with hot air.
The popularity of heating oil used within homes is a great thing since this keeps the costs low and ensures that you have a company that can come and deliver the heating oil you need, when you need it.
The right heating oil company is going to make all the difference when it comes to getting more out of the heating oil system that you have. Speak with a local heating oil company to find out if they can deliver the heating oil that you're in need of. They should be able to provide you with not only the heating oil, but some more information regarding the use of the oil.